---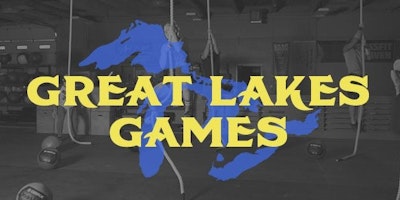 The Great Lakes Games
Saturday January 23rd, 2016
---
Who: Teams of 6 team members (M,M,M,F,F,F).  You either must register under a gym name (i.e. Crossfit Plymouth, Crossfit Grandview, etc) or you may register under Any Team or Sponsor Name for an higher entry fee (i.e. Team Kill Kliff, Team Misfit, etc).  Gyms may register multiple teams under the same gym name (i.e. 8th Day Black, 8th Day Orange, Maven Freedom, Maven Independence, etc)

What: A single day, 6 person team format, competition.  Expect 6-8 scores to come from about 60 minutes on the floor.  You may also see some short skills on the side being tested.  Things you could see: barbells; light and heavy, balls ranging in weight from 14-100#'s, sandbags, gymnastic rings, ropes,  rowers, True Forms, and much more. 

When: January 23rd, 2016.  Registration Opens 11/1/15 at 6am.  30 Team Max.  First come, first serve.  Gyms are ALLOWED to sign up multiple teams. 
Where: Crossfit in the "D"

Why: You may be a team looking for a little "on the field" experience going into the CF Games Season.  You may be a gym looking to see how you stack up against some of the region's best.  You may want some local bragging rights.  You may be a gym that just wants to get 3 men and 3 women and have a great day.  Whatever your reason, 6 person team events are pretty damn awesome. 

How: $360 per team entry *$60/member when you register under a Gym Name.  $600 per team that registers under a sponsor name.   Registration includes 6 t-shirts for all team members.  

Prizes: $1600 Cash to the winners + The Trophy, $600 to second place, 3rd place plays for free (* $360 entry fee back)

*This will be an RX competition.  Any team that needs to scale a movement will be eliminated from podium consideration.


Refund Policy: Refunds will be granted on an individual basis.  You must e-mail info@lex-artis.net to request a refund.  Once you sign up for an event, the maximum refund will be 85% of your registration.  21 days, or shorter, prior to the event the maximum refund will be 50% of registration cost.  14 days, or shorter, prior to event no refunds will be granted.  Any transfer of tickets will be done at a 10% fee.  You must e-mail info@lex-artis.net with all new athletes information if you do transfer your ticket.